Maintenance Support
Maintenance
Full time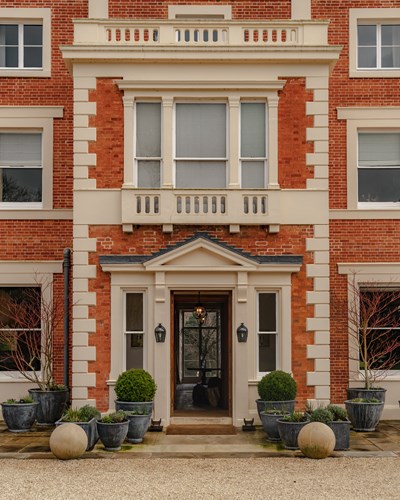 Heckfield is a living place: a Georgian family home lovingly restored to its classic origins and rewoven into 400-acres of Hampshire. Elegantly evolving, resolutely natural, we're a beautiful piece of English history that redefines the idea of a hotel. We springboard from a storied past, celebrating the slow-and-simple now: a country haven — less than an hour from London — sculpted over centuries by ancient heather, woodland and meadow.
We are now looking for a Maintenance Support to join our lovely Maintenance team.
Responsibilities include:
To maintain the main entrance of the hotel, cleaning of signage, sweeping of driveway.
Ensure foot paths around the property are maintain/safe, ensure all lighting is clean.
Clean/touch up the wooden signs along the main drive
Ensure all external furniture including but not limited to, the Heareth/Assembly terraces, the long room terrace and Italian terraces are rubbed down and treated if required
Clean daily, inside, and out the windows around the spa as directed by the Spa manager.
Ensure lighting around the guest and staff car parks is kept clean, any faults reported.
Ensure all external bins around the hotel are emptied regularly and kept clean.
Ensure loading bay is kept clear of rubbish build up and is cleaned regularly.
Touch up of paint work to the Security lodge at main entrance, the Manor House and any other as directed by your line manager
To help maintain the staff houses as directed by your line manager, this will involve painting, hanging curtains, installing locks and general maintenance related tasks.
Be aware of duty of care and adhere to occupational, health and safety legislation, polities and procedures.
Be familiar with property safety, first aid and fire and emergency procedures and operate equipment safely and sensibly.
Benefits:
·       Basic Salary of £21,000 PA
·       Service charge (estimated £4,000 to £6,000 per annum)
·       Increased holiday allowance
·       Vitality healthcare cover
·       Employee assistance programme (with Hospitality Action)
·       Life assurance scheme (from day one, covering up to 2x your annual salary)
·       50% F&B discount when dining in our restaurants
·       Company sick pay
·       Enhanced maternity pay
·       Enhanced paternity pay
·       Recruit a Friend bonus (£1000)
·       Monthly employee recognition scheme
·       Annual employee parties
·       Free staff meals
·       50% discount on Wildsmith Skin products
·       Heckfield Plus - online discounts
At Heckfield we pride ourselves on providing training, development and a chance to progress within the company.  If you would like to work in a collaborative and creative environment, please send your cover letter and cv to [email protected]